Autumn Kale Salad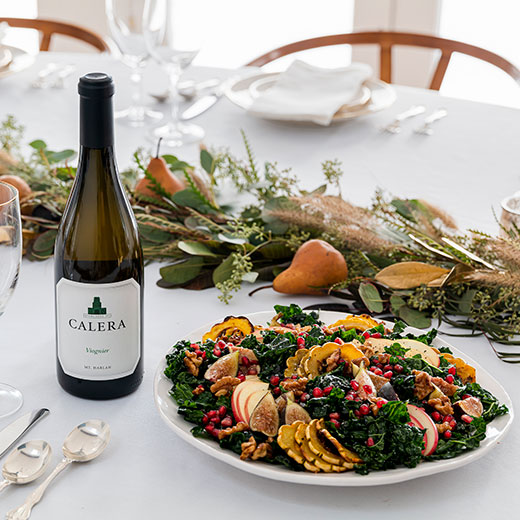 Yield: 8-10 servings
Prep: 10 minutes | Cook: 30 minutes
Total Time: 40 minutes
Kale greens, roasted squash and sweet honey crisp apples make this salad a healthy fall dish you can enjoy all season long. Pair it with our Calera Mt. Harlan Viognier for the perfect pairing.
Ingredients
2 bunches Dino kale or other variety - cleaned and stripped from stems
1 delicata squash - thinly sliced (¼ inch)
1 cup toasted walnuts - chopped
1 cup pomegranate arils
8 fresh figs - quartered
1 apple - honey crisp, pink lady or other - quartered and thinly sliced
2 tbsp maple syrup
½ tsp cinnamon
¼ tsp cayenne pepper
Salt and freshly ground pepper
Optional - 1 cup feta, goat, parmesan, pecorino or grano padano cheese
Dressing:
1 small shallot - minced
1 garlic clove - minced
¼ cup apple cider or champagne vinegar
1 tsp dijon mustard
1 tsp honey or maple syrup
½ tsp salt
¼ cup + 2 tbsp olive oil
Freshly ground pepper
Preparation
Combine the shallot, mustard, vinegar, salt and pepper in a small jar or bowl. Shake or whisk until combined. Let sit for 10 minutes. Add the oil and shake or whisk slowly if using a bowl. Taste and adjust if needed.
Heat oven to 425 F.
Place sliced delicata squash on a parchment lined baking sheet and toss with olive oil, salt and freshly ground pepper. Cook until slightly brown and caramelized on both sides. Turn the squash rings over half way through baking. total time, about 15-20 minutes.
Prepare all fruit and vegetables. Kale can be thinly shredded or torn into larger pieces, whatever you prefer.
In a medium skillet heat 1 tablespoon olive oil with the maple syrup, add the walnuts, cinnamon, cayenne and pinch of salt. Stir well with a wooden spoon and cook until walnuts are caramelized, roughly 5 minutes. Transfer to a bowl and set aside. You can also do this in a 400 F degree oven for about 10 minutes on a sheet pan.
To prepare the salad - you can prepare the salad in a large wooden bowl or a shallow platter. Toss kale with enough dressing to coat the leaves (I like to massage it into the leaves a bit with my hands) Season lightly with salt and pepper. Arrange squash and apples in groupings of 3-4 around the kale. Add figs in and around salad. Sprinkle the walnuts and arils around, then drizzle more dressing over the top of the salad. Add cheese if using.
Take a look at our recommended pairing below.
Pairing Recommendations - Viognier
91 Points - Wine Spectator