Tours & Tastings

Calera
11300 Cienega Rd
Hollister, CA 95023
(831) 637-9170
International: (707) 945-1812
info@calerawine.com


Hours
Temporarily Closed
Tasting Appointments: 11am - 3:30pm
Reservations are not required, but always appreciated.

Reserve

Groups of 5 or More
In order to provide special attention to all of our guests, we kindly ask that you make a group reservation for groups of 5 or more.

Group Reservation
Note: Our winery is currently closed to visitors in compliance with California health guidelines. We eagerly look forward to welcoming you as soon as we can. If you would like to enjoy our wines from the comfort of your home, you can place an order online, or call one of our Wine Advisors at (707) 945-1835. Wine Country is just a call or click away.
We are most grateful for your on-going support and send best wishes for abundant health and a quick return to normal life.
We invite you to visit Calera located at 11300 Cienega Road outside Hollister, CA. Here you will be able to take in the beautiful views of the Diablo Mountain Range, see our hillside one-of-a-kind seven level gravity flow winery, and learn about our history and exquisite wines.

In addition to certified service animals, we welcome well-behaved dogs on leash on the property for outdoor tastings.

---
Upon entrance into the tasting room you will be greeted by one of our delightful and knowledgeable tasting room attendants and taken through a flight of five wines.
Book Calera Tasting - Reserve Via Tock
---
Elevated Tasting Experiences - By Appointment Only
Diving deeper into our portfolio, we offer an elevated tasting experience with two flight options. Featuring educational and "behind-the-scenes" access to our Estate, winemaking practices and limited-production wines, this exceptional experience is curated to create a unique and intimate setting, advance reservations are required.
To reserve call (831) 637-9170 or email info@calerawine.com.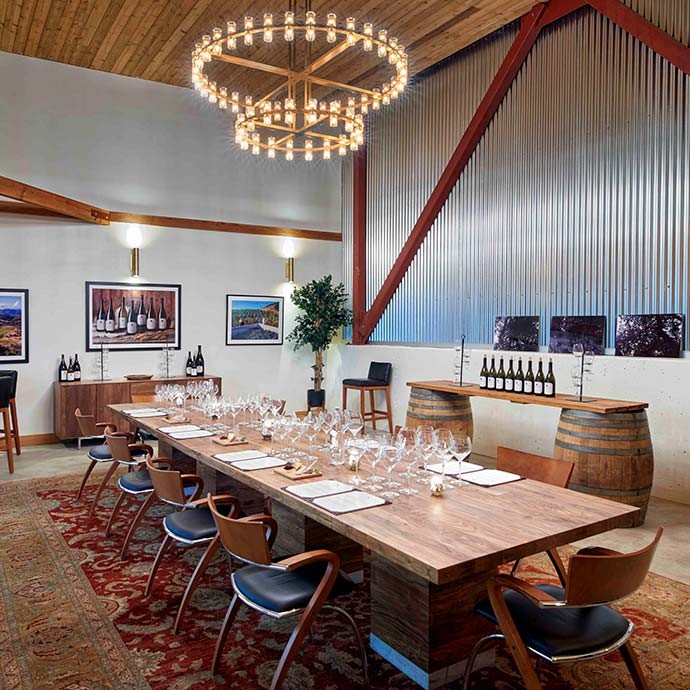 Mt. Harlan Estate Tasting - $50/person + tax
Join us for our newest Calera tasting experience: the Mt. Harlan Estate Tasting. Enjoy a guided tour highlighting our iconic gravity flow winery and caves, while learning the history of the Mt. Harlan terroir and the roots of founder Josh Jensen's passion for Pinot Noir. You will then be escorted into the Mt. Harlan Estate room where your Wine Educator will guide you through a seated exploration of the six renowned Mt. Harlan estate vineyards, complete with a cheese pairing.
This experience includes a flight of six Mt. Harlan Estate wines featuring Chardonnay and Pinot Noirs from our mountaintop vineyards.
Cheese pairing included
Tasting location: Mt. Harlan Semi-Private Room
Semi-Private/Limited to 16 adults (attendees must be 21 or older)
First seating at 11:00 AM
Average Duration: 1.5 hours
Reservations Required
Please contact us at (831) 637-9170 or email info@calerawine.com to make your tasting arrangements for this experience. Tasting fee is independent of wine purchase.
OTHER CALERA EXPERIENCES