Filet Mignon with Mushroom Ragout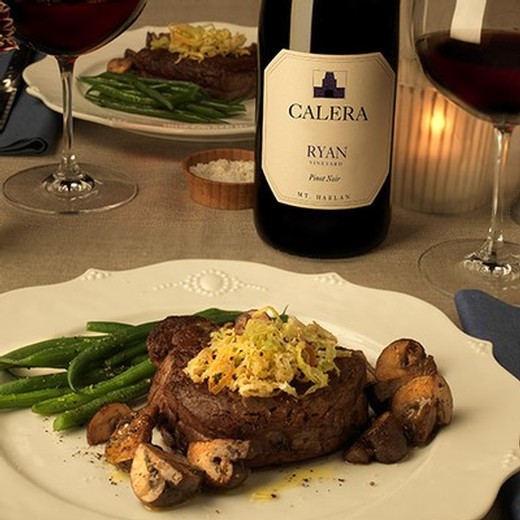 Yield: 4 servings
Prep: 15 minutes | Cook: 1 hour
Total Time: 1 hour and 15 minutes
Filet mignon isn't a trend, it's a classic. There's a reason this steak is made for romantic dinners and special occasions and features on restaurant menus nationwide. This cut is so tender and buttery, when done right it just melts in your mouth. A simple recipe, you don't have to get fussy in the kitchen to enjoy a meal fit for royalty, in the comfort on your own home. Don't forget the sides to make this dish a meal.
Ingredients
6 tbsp butter
2 clove garlic, chopped
1 tsp marjoram
1 lb crimini mushrooms, cleaned and quartered
2/3 can chicken broth, low salt
2/3 cup Calera Pinot Noir
3 tbsp whipping cream
4 fillets mignons
1 tsp truffle oil
2 ½ tsp peanut oil
2-3 leeks, washed and cleaned
Milk
Oil for frying
Preparation
Slice leeks into thin rings and place in plastic bag. Pour enough milk to cover leeks and let rest for 1 hour. Remove rings from bag without milk and transfer to another bag with all- purpose flour, salt and pepper.
In small "fryer" pour oil and heat to 375 degrees. Carefully shake excess flour from leek rings and carefully drop "bunches" into fryer. Rings will hold together in "nests" as they fry to a golden lacy color. When golden and crisp remove from fryer and drain on paper towels. While still warm sprinkle with salt. Keep warm.
Melt butter in large nonstick fry pan over medium heat. Add garlic and marjoram and sauté for a minute. Add the mushrooms and toss to coast. Sprinkle salt and cover pan. Cook on medium until mushrooms release their juice, about 10 minutes.
Add chicken broth, wine, whipping cream and bring to a boil. Cook uncovered for approximately 5 minutes or until they are tender, and sauce coats the mushrooms.
For fillets, prepare steaks with salt and pepper. Heat a heavy skillet over high heat until hot. Carefully add peanut oil and swirl pan to coat. Cook fillets in hot pan 4 minutes per side for medium rare. Transfer steaks to plate and spoon warmed mushroom ragout over each.
Serve
Finish by drizzling ¼ tsp truffle oil over steak and serve topped with leeks.
Take a look at our recommended pairing below.
Pairing Recommendations - Red Wines