Grilled Peach Salad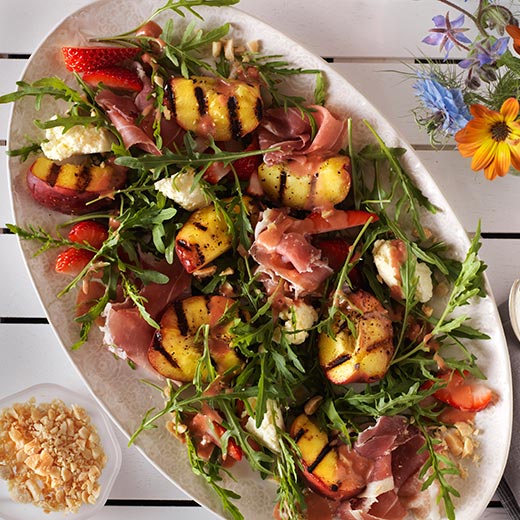 Yield: 4-6 servings
Prep: 10 minutes | Cook: 5 minutes
Total Time: 15 minutes
Take your grilling to a whole new level. Grilled peaches can be added to sweet or savory dishes but tossing them into a fresh summer salad is one of our favorites. The perfectly carmelized natural sweetness pairs nicely with bitter greens - the best summer side dish. Paired with a glass of Calera Vin Gris, it's the ultimate summer treat.
Ingredients
2-3 firm-ripe peaches - halved and pitted
1 cup fresh strawberries - quartered
4-6 cups baby arugula or other greens
1 ball burrata or ricotta cheese
¼ lb prosciutto, sliced thin
Dressing:
3 tbsp balsamic vinegar
1 tbsp lemon juice
1 small shallot - minced
½ tsp honey
⅓ tsp of salt and pepper
Salt and pepper
Preparation
Prepare ingredients and dressing.
Heat grill on high, when hot turn to medium high.
Cut peaches into thirds - brush with olive oil, salt and pepper. Grill on each cut side 2-4 minutes. Set aside to cool.
Toss greens with 1-2 tablespoons of dressing. Place greens on a platter or in a large wooden bowl - then arrange peaches, prosciutto, strawberries and cheese.
Drizzle with more dressing and salt and pepper.
Take a look at our recommended pairing below.
Pairing Recommendations - Red/Rose Wines