Grilled Swordfish with Aji Verde and Blistered Corn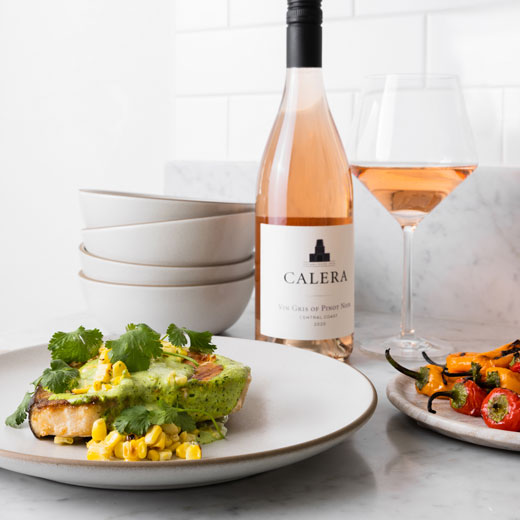 Yield: 4 servings
Prep: 10 minutes | Cook: 30 minutes
Total Time: 40 minutes
Aji verde is a peruvian sauce that's bright and beautiful with just about anything that comes off of the grill. Grilled swordfish and blistered corn bring in some roasted savory notes that pair beautiful with Calera Rosé making it the perfect summer pairing.
Ingredients
4 swordfish steaks
Extra Virgin Olive Oil (evoo)
Salt
¾ cup Aioli or mayonnaise
2 cloves garlic, peeled
2 scallions
1 jalapeno
2 limes, juiced
1 bunch of cilantro
2 ears of corn
Preparation
Start by bringing up the grill to a high heat. Make sure the grill grates are cleaned and seasoned with oil.
To make the aji verde, start by cutting the jalapeno in half, lengthwise, and removing the seeds and white flesh with a spoon. If you want a bit of heat, leave the white flesh in the jalapeno. Roughly chop the jalapeno as well as the scallions and cilantro and add to a blender with the garlic, aioli, and lime juice. Blend on high until smooth, season with salt to taste and set aside.
Lightly brush the swordfish steaks and the corn with EVOO and season with salt on both sides. Transfer the swordfish to the grill and cook for 4-5 minutes on each side.
Place the ears of corn on the grill to blister, turning as needed.
Remove the swordfish from the grill and transfer to a platter. Liberally spoon the aji verde over the fish.
Cut the corn off of the cob and scatter over the entire platter.
Serve with extra lime wedges and sprigs of fresh cilantro.
Take a look at our recommended pairing below.
Pairing Recommendations - Red/Rose Wines