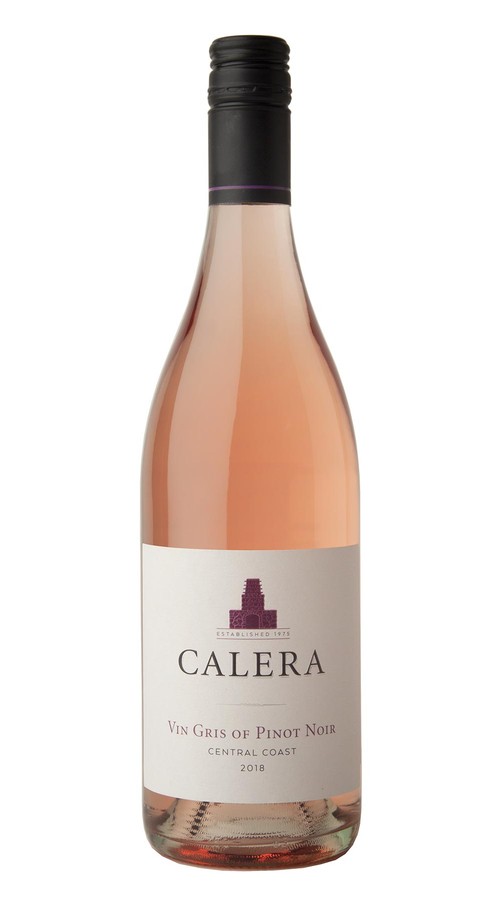 2018 Calera Central Coast Vin Gris of Pinot Noir
Calera's Central Coast wines are made from grapes grown by selected vineyards in California's Central Coast Viticultural Area. This is a delightful, European-style dry Rosé, made of 100% Pinot Noir. The wine is light colored, fruity, crisp and flavorful. It's spunky and fun, just right for barbeques, picnics and warm weather events.
Wine Profile
Production Notes
Varietal Content: 100% Pinot Noir; Winemaking: 100% stainless steel
Winemaker Notes
Made using grapes from a prized single vineyard in the Central Coast's Cienega Valley AVA, this Vin Gris of Pinot Noir offers dazzling layers of strawberry, rhubarb, cranberry and pomegranate, along with hints of fresh-cut grass and orange zest that linger on the vivacious finish.
Production
The quality of the 2018 growing season on California's Central Coast was fantastic. After warm early spring weather led to an early budbreak, the temperatures cooled in late-spring, followed by sunny days with moderate temperatures throughout the summer. This provided us with some of the longest hangtimes we have ever seen in a few of our Central Coast vineyards, which resulted in beautifully ripe flavors overall. At the same time, the temperate weather allowed the fruit to retain ideal acidity, yielding vibrant and complex wines, with excellent structure and alluring flavors.
Wine Specs
Wine Specs
Varietal
Vin Gris of Pinot Noir
Appellation
Central Coast
Harvest Date
September 27, 2018
Sugar
24.5° Brix at harvest
Acid
0.75 g/100 ml titratable acidity
Fermentation
32 days fermentation at 55°F
Product Reviews
Add a Review
Product Reviews
Amanda Maynard
(Nov 12, 2019 at 5:12 PM)
We recently opened our bottle Calera Vin Gris of Pinot Noir to have before dinner, and I found it to be a little too tart for my liking.  It had strong notes of grapefruit and green apple.  I would describe it as a medium bodied rosé, and I think I prefer something a little lighter.  This just had a little too much acid for me.I completed this review in exchange for compensation and free product, but all views are my own.
Zia Domic
(Nov 12, 2019 at 9:34 PM)
I would like to preface this review by stating that I am a major rosé lover, after the first time I tried (a good) one I never looked back. I love my drinks cold and do not miss the oakiness of a Chardonnay. The Calera Vin Gris Pinot Noir is a lovely fresh, crisp rosé that I enjoyed with a dinner of grilled fish but the versatility of this wine can have you dining on anything from meat to salad with it and it is so full bodied and rich that I would also recommend it as a sipping wine without the meal. Great quality for the price point! I completed this review in exchange for compensation and free product, but all views are my own