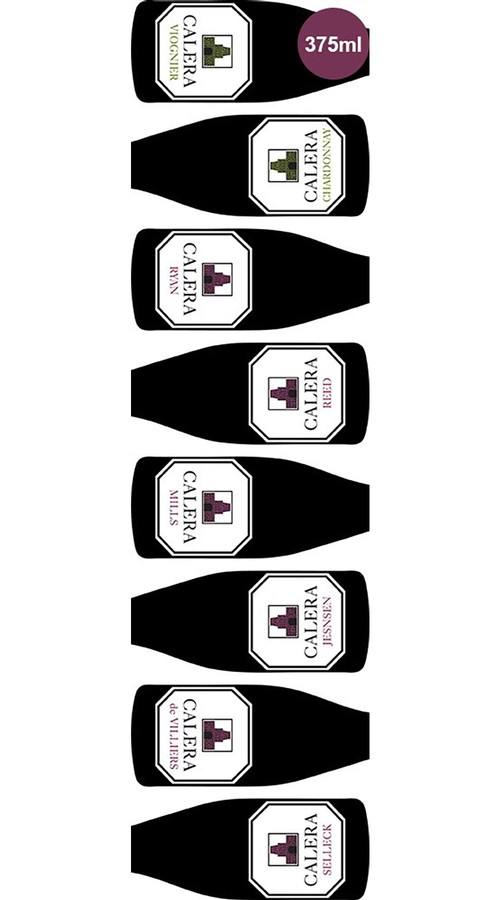 Calera Sampler 2014 Mt Harlan Variety Pack
Calera's sampler pack (8x375ml) makes a great gift. Includes Mt. Harlan's Chardonnay, and Viognier, and ALL SIX of the highly acclaimed Pinot Noir vineyards planted up on Mt Harlan. Highly acclaimed, small production, and extremely distinctive Pinot Noirs from our very unique high elevation (2,200') limestone soils; each with its own different aspect around the mountain. Six very different personalities, each in fact named for very special gentlemen important to Calera, make a fascinating comparative tasting.
Everyone's favorite way to preview the vintage - with half-sized bottles. Also makes a perfect gift! This set contains one each of the following items:
2014 de Villiers Pinot Noir (375ml)
2014 Jensen Pinot Noir (375ml)
2014 Mills Pinot Noir (375ml)
2014 Reed Pinot Noir (375ml)
2014 Ryan Pinot Noir (375ml)
2014 Selleck Pinot Noir (375ml)
2015 Mt. Harlan Chardonnay (375ml)
2015 Mt. Harlan Viognier (375ml)
Product Reviews
Add a Review
Product Reviews
Chris Herron
(Nov 2, 2018 at 11:03 AM)
the reds were amazing, the Selleck and Jensen in particular were standouts. unfortunitley the two white wines were completely oxidized when the arrived in oregon. the weather was very hot or cold when I received the wines in late september. I have been ordering this package for nearly 20 years and have always been pleased. not sure if this is because of the duckhorn distribution or just a one off.