Salmon with Cilantro Lime Cream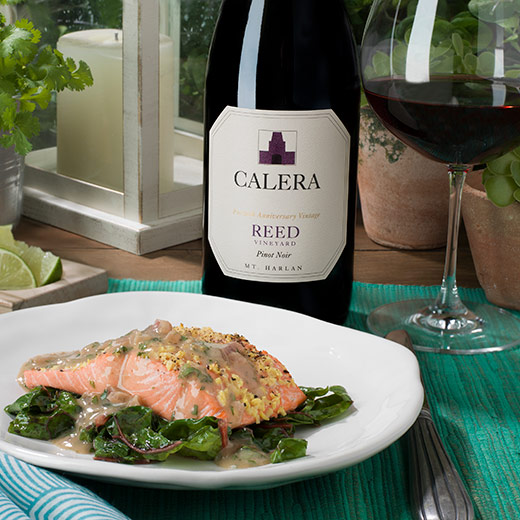 Yield: 4 servings
Prep: 10 minutes | Cook: 45 minutes
Total Time: 55 minutes
This salmon recipe is not just garlic and butter, because sometimes you crave something different! While still easy to make, this dish with an asian-inspired twist, is prefect for home cooks and gourmets alike. Our take on classic baked salmon tastes amazing and is for anyone looking to change up their menu routine.
Ingredients
Salmon:
4 Salmon fillets
1 tbsp extra virgin olive oil
2 tbsp butter
2 branches of fresh ginger, chopped
Salt and Black pepper
Cilantro Lime Cream Sauce:
1 jalapeno, sliced lengthwise
½ cup purple onion, chopped
1 can coconut milk
½ cup chicken stock
1-2 tbsp green curry paste
2-3 tbsp fish sauce
2 tbsp butter
3 tbsp brown sugar
1 lime, juiced
1 bunch of fresh cilantro, chopped
Salt and Black pepper
Preparation
Salmon:
Preheat oven to 500 degrees and prepare baking sheet with a bit of olive oil to prevent sticking.
Rub each salmon fillet with melted butter and sprinkle ginger, salt and ground pepper. Place Salmon in the oven for approximately 10 minutes.
Cilantro Lime Cream Sauce:
Sauté onions in butter until soft and translucent. Add the curry paste and cook over medium heat for 2-3 minutes. Slowly add the coconut milk. When fully mixed add fish sauce, sugar, salt and cilantro. Bring sauce to a low boil and reduce heat.
Add the chicken stock and lime juice and taste for flavor. If desired add strips of jalapeno for more spice. Cook sauce at a low simmer until thickened, about 20 minutes.
Serve
Place fillets over wilted greens and spoon sauce over fish. Serve immediately.
Take a look at our recommended pairing below.
Pairing Recommendations - Red Wines